Let me help you to choose the perfect gifts to get your mom for Christmas. Let's help you to reflect what you really feel inside for this special lady.
For a special occasion such as the Holiday season this Christmas or even for a 'just because' reason, you can demonstrate your gratitude and your feelings with a thoughtful item that will touch at her heart.
To help demonstrate just how you feel about your mom in your heart, take a little time to choose a really touching, sentimental and special gift that she will love.
Note: This post contains affiliate links for which I may be compensated.
Some Very Special Gifts to Get Your Mom for Christmas
Image Credit: Original image shared by Clker-Free-Vector-Images on Pixabay with a CC License
As I've grown older, my Mom has now become the most important female in my life. Gone are the younger years where I just wanted my Dad, gone are the teenage years where we occasionally argued and had little meaningless tiffs. It's this lady who I turn to for advice and friendship on a regular basis.
⭐ Other people may come and go from my life but Mom is always there for me, in good times and in bad. She is my best friend and that's my I love the sweet sentiment on this Angel figurine. It says exactly what she means to me with: Mom, love you today and always.
Keepsake Figurines can Make Great Gifts for Mom This Christmas: Give an Angel to Watch Over Her
Get this Mom, Love You Keepsake Angel Figurine from Amazon.com
UK Readers get a Mum Figurine from Amazon.co.uk
You don't need to be religious to appreciate the meaning and sentiment behind an Angel. Angels are beautiful beings sent to watch over us and to be a source of comfort when we really and truly need it.
I believe that a mother receiving this would be very comforted by such a wonderful message. It tells her just how much she's loved and cared for. Sometimes we forget just how tough it can be to be a good mom.
We often find it quite hard to put in words what we really feel when it comes to those that mean the most to us.
As we grow older it can become much more difficult to express just how much we love and care about the woman who helped to shape our own unique character and personality while we were growing up.
Sweet, Sentimental and Special Gifts for Mom this Festive Holiday Season
Buy this Mom Engraved Bamboo Cutting Board from Amazon.com
UK Readers get a Engraved Mum Gift from Amazon.co.uk
I love the look of this rather unique chopping board which has a wonderful engraved message for Mom on one side and grooved reverse for chopping and cutting on. The sentimental message reads: Mom. The Cook with the Best Ingredients! Seasons this Home with Love.
The bamboo wood board comes with a display stand so it can be put on display in the kitchen and then taken off the stand when needed. Mom might think this one is rather too good to use.
Buy this Sterling Silver Heart Necklace with Mom Quotation
UK Readers get a Mum Necklace from Amazon.co.uk
The heartfelt message on this pendant necklace reads: A mother holds her child's hand for a short while and their hearts forever.
An inscription like this one is a beautiful message on a keepsake piece of jewelry that can be kept and treasured forever. She can wear this and keep it close at all times to think of you and the special family bond that you share.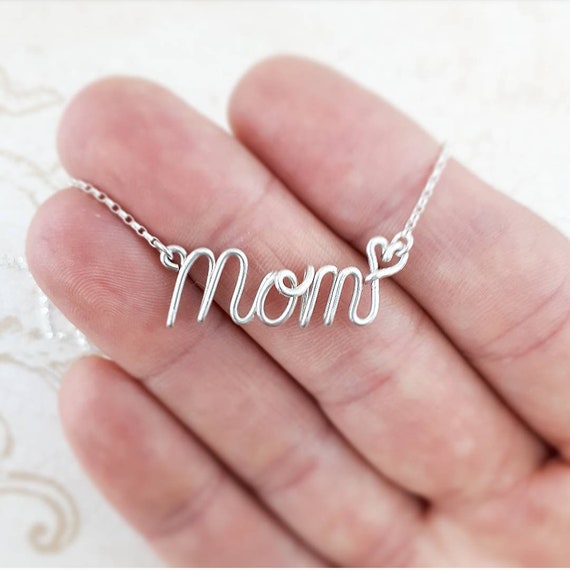 Get this Mom Necklace from DeanneWatsonJewelry on Etsy
If she doesn't wear necklaces then there are plenty of other jewelry choices including charm bracelets, earrings or maybe even a wonderful keepsake box.
Many trinket and Mom jewelry boxes come with touching messages across the top already for you.
Best Gifts for Mom at Christmas: Make Her a Gift of Your Time by Filling in a Special Journal for Her
View this Mom I've Always Wanted to Tell You Journal
Can you set aside a little bit of time this year to express your thoughts about this special lady in a book?
This wonderful and unique gift idea is a journal that prompts you to fill in and record all your happy memories and to really take the time and thought to express how you feel.
⭐ Of course filling in a journal like this one does take some time but that's why it becomes such a special and meaningful gift because it becomes clear how much time, thought and effort that you've poured into this project.
You'd really have to start it a while before the occasion when you mean to gift it to her. Better than a blank book where you may not know how or where to begin as well.
If you like the idea of a journal to record your thoughts and feelings down as a real personalized gift but you don't want to do quite so much in the way of writing, consider making your own little scrapbook album or photo journal instead.
You can include some special photos of you and your mother and also happy times and occasions that you've shared together or even as a family.
A Special Quotation Mug Can be One of the Top Christmas Gifts for Mom
Buy this Mother Quotation Mug from Amazon.com
UK Readers get a Mum Mug from Amazon.co.uk
This makes for a really inexpensive but a sweet item that she can enjoy using every single day. Thoughtful and sweet gifts really do not have to cost the Earth.
This mug is something that can be enjoyed and used on a daily basis and it is both practical and from the heart as well. The quotation printed on the boxed mug reads: A Mother holds a special part of all that is treasured in the heart.
If I Didn't Have You as a Mom I Would Choose You as a Friend Mug from Mugsleys on Etsy
If you want to personalize this mug even further then also consider filling it to the brim with something else that only you will know will be really appreciated.
Small items like candy and chocolates make good choices as fillers or maybe small items from a hobby that she particularly enjoys such as embroidery threads for cross stitch, new pins or threads for quilting, inks for rubber stamping or some cute embellishments for paper crafts like card making and scrapbooking.
You could wrap these extra goodies up in tissue paper and place them in the mug or fill it up and then wrap the whole thing in a square of clear cello wrap and tie it off tightly with some sweet ribbon at the top.
Good Gifts for Mom Can Include Relaxation Items Such as Bath and Body Gift Baskets
Get this Rose Garden Spa Bath and Body Gift Basket Set at Amazon.com
Luxury gift baskets and hampers are always really good choices for when you want to show how much you care but you don't want something that has a sentiment that might not exactly match up with your own relationship with your Mom.
A luxury spa basket is something that looks pretty special and that can be enjoyed when she wants some necessary 'me' time to herself. This one is traditionally pretty with the rose flower theme in pale pinks and greens.
There are lots of other options available to you including you putting together your own gift basket or hamper that's filled up with a personal array of goodies that you know she'll really love and enjoy.
A mother holds her child's hand for a short while and their hearts forever.
Image Credit: Original image shared by geralt on Pixabay with a CC License
It can be pretty tough watching your kids grow up and move on with their lives. Sometimes mother's can really feel like they are being left behind. I comforted our neighbor recently who was waving off her youngest to university.
It was a gut wrenching time for her which she found very hard. Giving a special and meaningful item lets this lady know and serves as a reminder that she will never be forgotten, no matter how far away you may be.
⭐ Sharing a cute framed photo of you and your loved one together makes a really sweet choice of item. You can choose from lots of suitable Mom or Mother Photo Frames.
Choose a meaningful photograph that captures a particularly happy moment that she will love to look at again and again. If you found lots of inspiration and ideas here then please do share the post on your favorite social media sites so others can find it too.
Related Content You Should Also Love:
Page Last Updated:
Articles are accurate and true to the best of the author's knowledge. Content is for informational or entertainment purposes only and does not substitute for personal counsel or professional advice in business, financial, legal, or technical matters.