Come and sail your way to this super, seafaring selection of maritime and nautical themed Christmas cards.
For sea-loving friends and family, these fun festive greeting cards all have imagery associated with sailing and the sea. There are sailing boats, beacon of hope lighthouses, large ships and rolling crests of the waves.
The designs make you long to be back by the water, if not on it. Remember to shop for these early in the Christmas Holiday season because the best designs can sell out quickly. Aye Aye Captain!
Note: This post contains affiliate links for which I may be compensated.
Nautical Christmas Cards: Boxed Sets and Larger Packs of Festive Greeting Cards
Image Credit: Original image shared by Holgi on Pixabay with a CC License
⭐ In a Hurry? Get Nautical Christmas Cards HERE from Amazon.com
These type of cards are simply perfect for those who are captivated and entranced by all sailing, sea, boating and maritime themes.
Perhaps sailing runs in the family or there is a longing there to just sail away into the sunset. Either way, here is a truly charming selection of designs for you to pick from which have a mix of fun, modern, traditional and vintage themes.
Get this Box of 18 Nautical Themed Christmas Cards from Amazon.com
UK Readers get a Nautical Christmas Cards from Etsy
This is a lovely looking pack of cards sized 5 x 7 inches. These are featuring a wonderful sailboat theme decked out with festive lights and a harbor with seagull, wreath and a Christmas tree.
Everything is decked out in lights to make the Holiday scene look so jolly and festive. In the background is a lighthouse with a bright star in the sky. Inside the cards is the message: May the bright star of Christmas light up your life with peace and happiness.
There are plenty of great ocean-going styles to select from. You should see something whether you want a fun, traditional or religious style of design.
Choose from boxed and individual more personalized nautical holiday cards to buy. There are plenty of super designs that you can choose from so you're sure to find just what you want here.
Buy this Set of 18 Beach Wreath Design Greeting Cards from Amazon.com
This is a box set of 18 cards with gold foil lined white envelopes. There is a Season's Greetings message on the front of the card and a pretty beach scene.
The design features a beach background with a Holiday wreath made from seaweed and lots of different sea shells including a starfish. Inside the card is a verse that reads: Warmest Thoughts And Best Wishes For A Wonderful Holiday And A Very Happy New Year.
Nautical Sailboat Cards Pack of 10 by Shirley Bell on Etsy
The lighthouse is a wonderful, nautical symbol of faith because it is there to guide ships, boats and all sailing vessels home safely with a light that shines out even during the darkest storms.
There is a beautiful set of lighthouse Christmas cards (not pictured) with the scripture inscription inside which reads: Lord may your faithful love rest on us. We put our hope in you. Shine your light on your friends and family this Holiday season.
Nautical Christmas Photo Cards: Add in Your Own Custom Photograph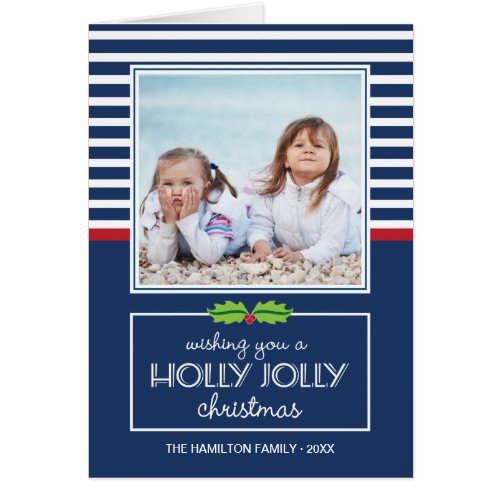 Nautical Stripes Christmas Card - Add Your Own Photo to it from Zazzle
This bold looking design features nautical color stripes in navy blue, white and a touch of red. I like the addition of holly as a motif to the front which reads: wishing you a holly jolly Christmas.
You can customize this design which comes from Zazzle. With nautical photo Christmas cards, you can add in your own photo, a sailing or beach vacation theme would be ideal.
Add in your family name and date at the bottom to personalize it. You can order just 1 card or even hundreds if you need them. The more you order, the bigger the discount you get on the price. There are different sizing options to go for too.
I love the look of this beautiful lighthouse card design. You need to add in your own photograph instead of the design that is there.
Don't forget to change the names Harry and Sally to your own choice of names, surname or first. Alternatively you could just add the year instead or a small sentiment there. Change up the interior too if you like.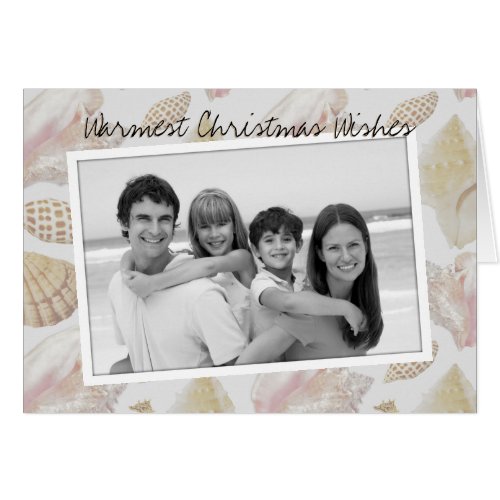 Beach Christmas Horizontal Photo Folded Card at Zazzle
The front features a shell design along with Warmest Christmas Wishes. You need to change the photo to your own one.
On the interior is a beautiful beach and sea background and a message which reads: for a season filled with peace, joy and love. You can add a personalized signature on the inside or delete the one that is already pre-made for you.
Nautical Christmas Cards Personalized: Add Custom Names, Dates or Your Choice of Text

Christmas time at Portland Head Lighthouse Card at Zazzle
I love lighthouse designs because it is symbolic of hope and being a beacon of light when all else fails. It is a symbol of enduring faith through the storms. And I also love sea scenes because watching water is very calming, watching the waves flow one over the other.
This card features a photo of the Portland Head lighthouse which you can add your family name to on the front. You can also customize other areas of the card if you wish to.
Christmas wreaths always make for very festive and nice, traditional designs. I love how the wreath has been placed on the lighthouse. You can add on your choice of personalized text to the front of the card or to the interior where you can pop a unique message like Happy Holidays from The Bennett Family. Then order as many as you need to send.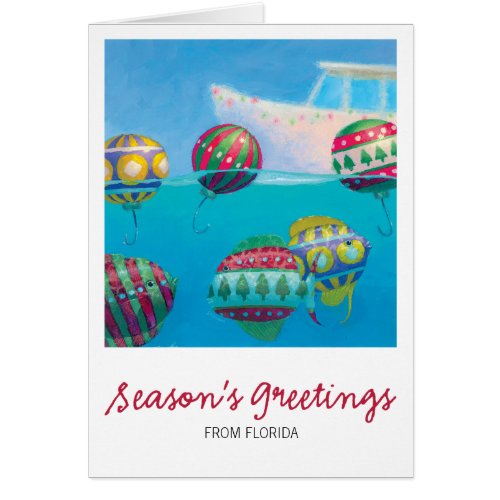 Bobber Fish Bulbs Christmas card at Zazzle
Another fun design I found was this fish design with a festive sail boat, some floating Christmas ornaments and then some fish which look like the ornaments. This has a lot of bright coloring and patterns which makes it look especially festive and I think it is a fun and playful piece of art.
I've always been lucky to live near water and I also enjoy vacations cruising and boating down rivers. There's nothing better. So I've picked out some favorite and fun nautical and sea theme card designs for the festive Holiday season which you should love too.
Related Content You Should Also Love:
Page Last Updated:
Articles are accurate and true to the best of the author's knowledge. Content is for informational or entertainment purposes only and does not substitute for personal counsel or professional advice in business, financial, legal, or technical matters.