This page will give you plenty of ideas and inspiration for Narnia Christmas party decorations and for giving your own home a real Chronicles style for the Holidays.
I love to dress my home for the Holidays in a magical winter wonderland style that looks like it's straight from this fantasy world, with many references to The Lion, The Witch and The Wardrobe in particular.
There's something very magical about having a Narnia theme party as your choice and especially during the festive Holiday season.
Note: This post contains affiliate links for which I may be compensated.
Chronicles of Narnia Christmas Party Decorations: Add Some Winter Magic for a Wonderful Event
Image Credit: photo belongs to the author.
One of the best loved books in the series created by C.S. Lewis is The Lion, The Witch and The Wardrobe. Winter is the most magical part of this wonderful book and that is a great choice for your Narnia party decorations.
Use Snowflake Decorations for a Magical Winterland Theme
Get these Hanging Snowflake Decorations from Amazon.com
UK Readers get Snowflake Decorations from Amazon.co.uk
Snowflakes are an easy design motif to splash around the room or venue to create your magical Narnia winter wonderland look. Hanging snowflake swirls make great decorations for this theme.
Opt for colors mainly in white, silver, and pale ice blue with just a touch of red and gold to get the whole ambiance from the first Chronicles movie: The Lion, The Witch and The Wardrobe.
Please take care not to go too blue with all your decorations and accessories because otherwise you will end up with more of a Frozen Disney theme instead of a Narnia one.
If you take care to stick with mostly whites and silvers as your color choices, with just a touch of red and ice blue thrown in, you'll get a much better finished result.
Get this Set of 6 Iron and Glass Snowflake Ornaments from Amazon.com
UK Readers get Snowflake Christmas Ornaments from Amazon.co.uk
Having a white Christmas tree or a tree decorated with white tinsel would make a fantastic centerpiece for a party. There were lots of trees in Narnia and many of them were magical too.
Make your tree magical by adding on lots of sparkling ornaments to make it the focal point of your occasion.
❄️ If you want a really special decoration to hang on a tree, look out for a hanging Swarovski snowflake ornament which really does sparkle and shine.
Swarovski is beautiful Austrian crystal that shines and catches the light just like diamonds but without the enormous price tag. This specific crystal has become a collectible item in its own right.
It can still be pricey but affordable to many people for adding on one very special design to the tree each year.
For so many of us fans, this wonderful world created by C.S. Lewis evokes amazing childhood memories filled with adventure, fantasy, magic, strange talking animals and creatures, an evil snow queen and four brave Pevensie children who were set to become Kings and Queens.
The White Witch called Jadis, has ensured that an icy spell has locked the land into a cold and harsh winter where there is no respite and not even the joy of Christmas to be had.
It is in this sorry state of affairs that a young girl, Lucy Pevensie, finds her way into the magical realm with the aid of an enchanted wardrobe. She steps out into a snow filled woodland marked by an ornate lamp post and a strange talking fantasy creature known as Mr Tumnus, the faun.
The magic that he created lives on today by keeping these tales alive for the next generation of dreamers. For Narnia and for Aslan!
A Christmas tree decorated with lots of pretty hanging snowflakes can make a wonderful focal point or centerpiece for your Narnia Christmas party.
Image Credit: photo belongs to the author.
To work along the idea of using a winter theme, hang up lots of white glitter icicles and sparkly snowflake decorations around the room.
You can hang snowflake and icicle decorations down from door frames and also from the ceiling in order to catch the light. Look for ones that are decorated with plenty of glitter or add on your own glitter to make them really sparkle.
Winter Scene Backdrop for a Party or Event from Amazon.com
UK Readers get a Winter Backdrop from Amazon.co.uk
I love the look of this winter inspired backdrop scene. It looks like it could be from Narnia with all the trees and the snow.
A scene setter or backdrop can quickly transform the look and style of a large area of wall for a party, wedding or themed Christmas or winter occasion.
Some scene setters need to be stuck up on a plain color wall or a light background. You may need to hang up some large white sheets in order to get the very best effect.
Magical Chronicles of Narnia Party Decorations and Supplies
Once you've got your key winter designs sorted with snowflakes, snow and icicles aplenty, you can start to add on some more specific items and Narnia party supplies.
Here's some extra items that are good choices to add depending on your overall budget. These should give it more of The Lion, The Witch and The Wardrobe look and feel.
UK Readers get a Victorian Style Lantern from Amazon.co.uk
A lamp post or old fashioned looking Victorian style lantern is a key item in this book and movie. It's one of the first objects that Lucy sees when she steps through from the wardrobe and something that most people associate with this theme.
Although an outdoor lantern may not be ideal for your occasion, you can also get lamp post decals for the wall.
Get this Lamp Post Wall Decal Sticker from Amazon.com
UK Readers get a Lamp Post Decal from Amazon.co.uk
The lamp post has a special meaning of hope and life anew. It was at the Lamp Post that Lucy first met Mr Tumnus who explained that the lantern symbolized the beginning and creation of Narnia.
The wicked White Queen, Jadis, had ripped off a bar from a lamp post while on a rampage in London. When the bar was brought back into the world with her, it grew into a lamp post through Aslan's creation song.
For other wall decorations, you can get a Chronicles of Narnia map. You can find these in a range of sizes and they make a quick and rather inexpensive way of adding to the room decor.
Chronicles of Narnia Party Ideas and Themes
Here's some overall themes that will work for your based on this book and which you can look for to incorporate into your decor:
❄️ 1) Always Winter, Never Christmas: snowflakes, icicles, snow and frost. Snow capped fir trees and decorated Christmas trees work beautifully.
Look for sparkling icicle lights, silver and white tinsel, snowflake hanging decorations and all the colors associated with this season. If you lose this winter theme, the party won't be quite so magical.
❄️ 2) Lamp Post or Lantern Light: this is an important icon because it was a special Narnia item that was actually created in The Magician's Nephew written by C.S. Lewis.
It was also the first item that Lucy saw on stepping through the wardrobe and into another world. You can get stencils, wall decals and actual working versions that can be used for your decor.
The Traditional Style Black Lamp Post is a Perfect Chronicles of Narnia Prop
Image Credit: photo belongs to the author.
❄️ 3) Wardrobe to Another World: the huge wooden wardrobe is also another vital symbol that could be incorporated into your overall room design.
I love the idea of using the wardrobe somehow in the entrance to the party where guests step through and into a magical winter wonderland. You could decorate the doors to the event like a wardrobe by sticking a suitable print on top.
❄️ 4) Silver Winter Sleigh: the White Witch, Jadis, uses a sleigh which she is driven around in. You can find hanging tree decorations as well as larger props which are suitable. I have a personal photo of my own silver sleigh below.
❄️ 5) Royal Swords and Shields: both Peter and Edmund dressed as knights to do battle with the White Witch and her evil followers. Look for silver weaponry props to display that have a red lion motif across the front which stands for Aslan or even a gold color lion instead.
I love the silver sleigh hanging tree decoration I bought just last year to add to my Narnia themed Christmas Holiday decorations.
Image Credit: photo belongs to the author.
I love the silver glitter sleigh I found. I just happened upon it in a department store and I had to buy it to add to my collection which I'm gradually building up.
You may see other similar items to hang on your tree or use as standing props. Don't be put off if they are not in a color scheme that you want because much can be done with spray paint these days.
How about adding a bit of a wow factor with a large glitter lit sleigh prop which would be ideal for a bigger venue like a wedding or large celebration.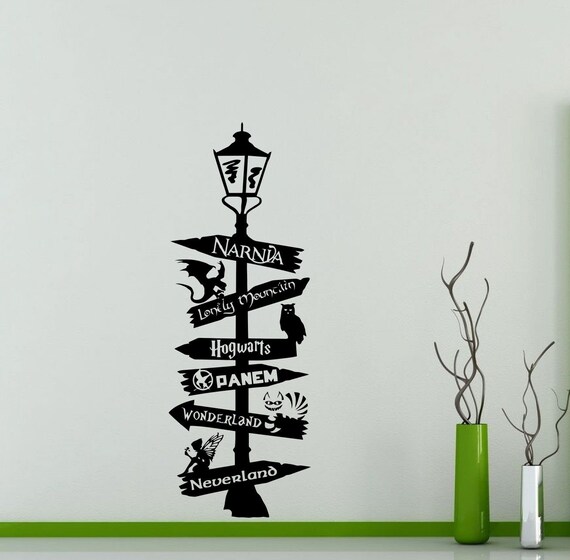 Buy this Wall Sign from AwesomezzDesigns on Etsy
For a party, I really like the idea of some sign posts that you can put up around the venue. This one is a decal but look out for other Narnia related signs with place names such as Beaversdam, Cair Paravel and more.
More Ideas for Decorations with a Winter Narnia Theme
Balloons are a very quick and inexpensive way to dress a room or venue like an office space for a party. You can get many balloon designs with pretty snowflake motifs on, look for lots of white as a color or a very pale ice blue or sparkling silver balloons.
If you want the balloons to float so you can tie them and use as table centerpiece decor, go to your local party store to get them filled up with helium.
A Selection of Some of My Own Ornaments with Narnia Christmas Inspiration
Image Credit: photo belongs to the author.
Decal stickers are a quick way to jazz up a plain wall for your theme and look for ones that also have glitter too for added shine. Look for snow, snowflakes, icicles, ice palaces, snow queens and anything with that winter look and feel.
Actual characters and items from the movie and books cast as decorations and ornaments are harder to come by but you can find them still in popular auction sites. Hang favorite characters like Lucy Pevensie and Mr Tumnus from a large Christmas tree.
Narnian Themed Party Food Inspiration
Of course it makes sense to theme your party food too. Most fans know that Edmund loved his Turkish Delight, it's also a real favorite treat of mine too.
And you will get plenty of other ideas with the unofficial cookbook to guide you. Hot winter drinks like mulled wine are appropriate and you can also add sugar around the rim of wine and champagne glasses to look like frost.
Look for the Unofficial Narnia Cookbook for Breakfasts, Snacks, Lunch and Feasts Inspired by the Books. Even if you're not into cooking, this book contains a wealth of information about food from the world of Narnia.
The book actually refers to quotes from the Chronicles and makes lots of suggestions and advice on how to come up with your own interpretation of the food as well as giving you over 150 recipes.
A Stunning Fantasy Ice Queen Doll Christmas Decoration
Image Credit: photo belongs to the author.
Edmund Pevensie's favorite Narnian treat was Turkish Delight. I adore this sweet treat which is perfect to offer to guests. Edmund Pevensie was tempted greatly by the magical Turkish Delight given to him by the White Witch of Narnia.
It is really the food that every fan thinks of in relation to the books and movie and a real wintry treat that makes a great gift choice too.
In Narnia it was "Always Winter but Never Christmas" at least not until the Pevensie children came along and brought the magic of the Holiday season back again. I adore the books that were written by the author C.S. Lewis and, for several years now, have been collecting decorations and items on this theme.
Related Content You Should Also Love:
Page Last Updated:
Articles are accurate and true to the best of the author's knowledge. Content is for informational or entertainment purposes only and does not substitute for personal counsel or professional advice in business, financial, legal, or technical matters.