Thankfully, we're not all subjected to a freezing cold winter climate during the festive Holiday season. Here's a beautiful selection of personalized and also boxed tropical Christmas cards that all come with that island paradise feel.
Cards with tropical images are not as readily available as your typical and traditional wintry Christmas scene but you will find a bright and colorful selection all on this handy page.
If you live somewhere nice and warm, how appropriate to send off these fun designs with a wish you were here notion. Alternatively, you can buy these and send to friends and family lucky enough to enjoy a lush climate while you're not.
Note: This post may contain affiliate links for which I can be compensated.
Festive Fun with a Seasonal Selection of Boxed Tropical Christmas Cards
Image Credit: Original image shared by minfl3 on Pixabay with a CC License
For a truly tropical theme, choose from lush green palm trees, coconuts, bright blue waves rushing over golden sands, cocktails on the beach and some warm welcome sunshine scenes. And if you're crafty, why not use the product selection here to get your very own ideas. Aloha!
Get this Set of 16 Boxed Flip Flop Tropical Cards and Envelopes from Amazon.com
UK Readers search for Tropical Christmas Cards at Etsy
This design just makes me want to slip off my shoes and sink my feet into the warm sand that looks so inviting in this festive beach scene.
All the flip flops have the traditional shades and colors of the Holiday season with Cardinal red, pine green and crisp snow white colors. It's a fun, friendly and informal design that looks just perfect for mailing out this December.
The internal sentiment reads: Merry Christmas. Wishing you the best holiday under the sun! This makes the set appropriate to send to family, friends, colleagues and acquaintances. There are 16 cards in this box set along with 16 white envelopes.
Tropical Shell and Beach Cards for Christmas
Buy this Set of 18 Beach Wreath Design Cards from Amazon.com
UK Readers search for Tropical Christmas Cards at Etsy
What better to conjure up evocative and tantalizing imagery of tropical life than beautiful beach and sea shell themes. These would also pair up perfectly with sand dollar or beach themed gifts and ornaments for December 25th surprises.
With gold foil lettering on the front and matching gold foil lined envelopes, these have quite the luxury look too. This set of 18 boxed shell wreath cards come with gold foil accents and gold foil lined white envelopes.
These are cards that celebrate a traditional Holiday season with the addition of some tropical seashell ornaments adorned over a festive Christmas wreath. I love the idea of celebrating both a traditional and a tropical Christmas. These cards have a gold accents and come with lined envelopes which add to the quality look and feel.
18 greetings from the beach cards come with matching white envelopes with a gold foil interior. I love the simplicity and elegance of the sand dollar ornament. The interior verse in red reads: Warmest Thoughts And Best Wishes For A Wonderful Holiday And A Very Happy New Year.
View this Box of 18 Christmas Cards with Shell Wreath Design
Many people do indeed like to decorate their trees with sea shells and items collected from the beach. Beautiful beach items make idea treasures and ornaments to adorn the home during the most precious time of year. This set comes with 18 gold foil lined envelopes and an inside verse reading: Wishing you a very Merry Christmas and a Happy New Year.
I like it when the sweet trio of the starfish, shell and sand dollar are used as designs for a tropical beach theme. They make a wonderful and appropriate design for the re-telling of the Legend of the Sand Dollar too.
Hawaiian Themed Tropical Christmas Cards
See this Set of 12 Peggy Chun Hawaiian Christmas Cards at Amazon.com
This is a beautiful looking set of Hawaiian Christmas cards with a delightful image of mail boxes stuffed with seasonal letters and post, gifts from Santa and even a cat.
Wreaths decorate the scene in Christmas colors and there's a tiny little mouse checking his Holiday mail at the bottom too. It is a really charming image that should appeal to animal fans too.
This set has 12 stunning looking cards enclosed. I love the fun mailbox scene that was originally painted by the artist Peggy Chun. I especially love the cat snoozing in the mailbox which is quite hard to spot at first. I also love the tiny mouse checking its mail too. This is so cute for people who adore animals.
Tropical Shell and Beach Design Cards
The following cards are available to order from Zazzle and customize as you wish. All these cards have the spirit of paradise island perfection and can be customized so they are left blank or contain your own festive greeting message inside. You can order just 1 card or lots to suit your needs.
Who isn't captivated by sea shells washed up on the beach. For many people, they evoke powerful memories of hunting for shells on the beach as children. It is the idea of looking for that perfect shell and a little tropical treasure to take home with you.
I love these wonderful card designs: the pretty pastel gingerbread sea shell house, the hermit crab with its Christmas tree shell and the beautiful selection of shells washed ashore.

Gingerbread SeaCasa Card from Zazzle
My personal favorite is this wonderful gingerbread house design all made from sea shells. It is a fun design and absolutely beautiful too with the colors and how it has been painted. This makes a stunning and unique piece of art to send off for the Holiday season to friends, family and even work colleagues and can be customized with your choice of text inside too.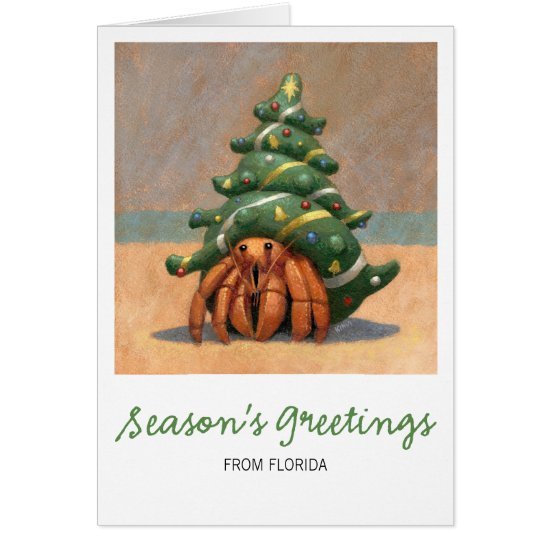 Hermit Crab Christmas Card from Zazzle
For those who love tree designs, this one with the Hermit crab carrying a decorated tree on its back is so good. It is fun and cute with the animal theme. And refreshingly different. I think people would find this one really fun to receive.

Festive Flamingos Tropical Christmas Card from Zazzle
What about this festive flamingo style. This is another really fun design that I spotted and I just had to share it because I loved it so much. I mean these pink birds are synonymous with warm climates and how fun to dress them up with Christmas decorations like that too.
There is certainly a colorful assortment of seasonal Holiday cards with that colorful Tropics style. Beautiful Hawaiian flowers and foliage, toucan birds with their vividly colored beaks wishing a Berry Christmas, Florida flamingos dressed in their Xmas best and a pretty palm tree scene.
I've picked out my favorites from this year's selection of Personalized and also Boxed Tropical Christmas Cards but you may also find different styles you enjoy more. Have fun picking just the right thing.
Related Content You Should Also Love:
Page Last Updated:
Articles are accurate and true to the best of the author's knowledge. Content is for informational or entertainment purposes only and does not substitute for personal counsel or professional advice in business, financial, legal, or technical matters.